Uz Slack dolazi nekoliko alata, koji, među ostalim stvarima, omogućavaju i slušanje internet radio stanica. Predstaviću vam par komada čisto da znate ako vam zatreba.
Mislio sam da obradim i grafičke i konzolne alatke, ali je ispalo da mi je i za ovo trebalo više vremena neko što sam planirao.

Ovde su obrađene konzolne. Grafičke alatke su većina media plejera koji dolaze uz Slack (audacious, xmms, dragon player, xine, ...). Ali može se desiti da i taj deo odradim nekom prilikom.
Odaću vam jedan mali trik u slučaju da imate problema sa određenom plejlistom (audacious ili ogg123 znaju imati problema sa plejlistama, mplayer ne podržava plejliste iz siguronosnih razloga).
Preuzmite plejlistu sa wget:
Konzolne alatke
mplayer
Podržava različite vrste formata i plejlista. Upotreba je jednostavna: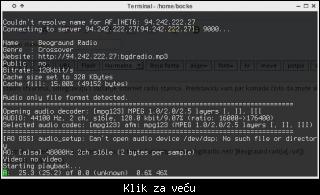 sox
Sox je švajcarski nož za uređivanje audio datoteka. Ono što je ImageMagick za slike to je sox za audio. Iako sox ima mogućnost direktnog puštanja audio datoteka, za to je komotnije koristiti komandu "play". Sox takođe podržava veliki broj formata.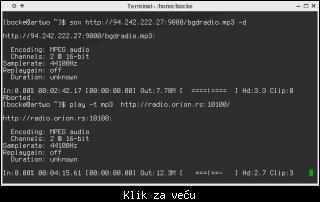 mpg123
Mpg123 je optimizovani mp3 plejer koji podržava i internet stream-ove. Upotreba je jednostavna: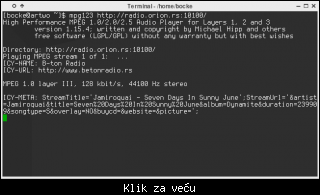 ogg123
Ogg123 je deo vorbis-tools paketa. Pored puštanja ogg i flac datoteka, podržava i internet streamove. Upotreba je jednostavna: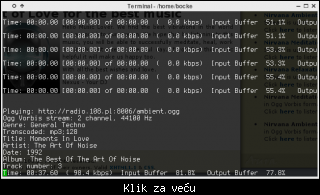 Soma
Ovo nije posebna aplikacija, već frontend za MPlayer. U pitanju je shell skripta koja koristi "dialog" alatku. Funkcionalno, olakšava korišćenje MPlayera za slušanje internet radio stanica. To izgleda ovako: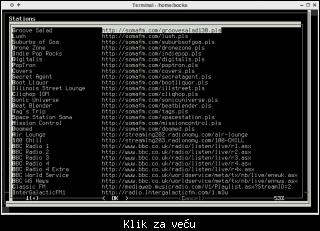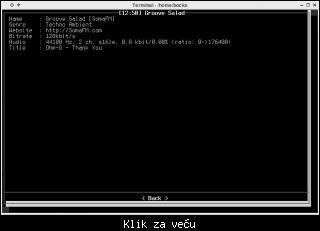 Uključuje ograničen broj radio stanica. Naravno, među njima se nalaze i radio stanice sa Soma.fm po kojima je dobio ime. Ali je upotrebljiv i za slušanje drugih radio stanica. Nove se mogu dodati u konfiguracionoj datoteci: ~/.soma/stations.conf.
Autor ove alatke je David Woodfall, a zvanična strana:
http://dawoodfall.net/slackbuilds/noversion/soma
" onclick="window.open(this.href);return false;. Odavde se mogu preuzeti i novije verzije alatke.
aaxine
AAlib frontend za libxine koji dolazi uz xine paket. Aaxine će se pod X-om podrazumevano otvoriti u novom prozoru. Da bi to sprečili morate mu proslediti odgovarajuću vrednost za opciju --driver.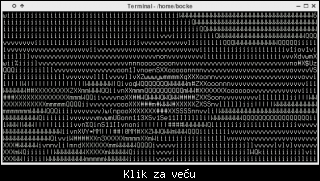 cacaxine
Cacalib frontend za libxine koji dolazi uz xine paket. Vrlo sličan aalib frontendu, samo što cacalib bazirana grafika podržava i boje. Cacaxine će se pod X-om pokretati isključivo u prozoru. Ali ako radite pod virtuelnim konzolama (alt+f1-f6) biće u mogućnosti da automatski iskoristi tekstualni ili frambuffer režim. Ako se cacaxine ruši, pokušajte da joj ručno navedete video ili audio drajvere: